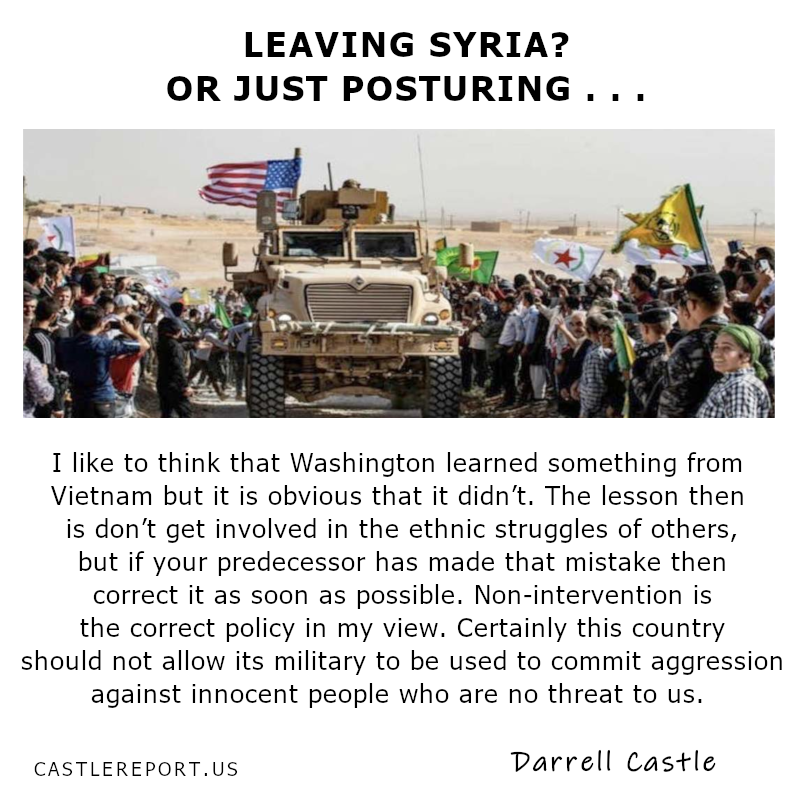 Darrell Castle talks about Syria and President Trump's recently announced decision to pull US troops from that country.
Today's Podcast: Listen Now
Hello, this is Darrell Castle with today's Castle Report. Today is Friday, October 11, 2019, and on this Report I will be talking about Syria and the President's recently announced decision to pull U.S. troops from that country, but first I want to remind you that next Friday I will be attending the Constitution Party National Committee Meeting so there will be no Castle Report next week. God willing I will be back with you Friday, October 25th. (Continue reading transcript)
Subscribe: Apple Podcasts | Android | Google Podcasts | Stitcher | RSS | More
---
For Constitution Day 2019 we present "Overview of America", which shows a straightforward explanation of government systems, basic economics, and timeless moral principles. Because of following them, America became the most unique and prosperous country in history.
---
The State of Georgia is planning to spend over $100 million to replace the current electronic voting machines with Dominion Voting System's Image Cast X electronic ballot marking device (BMD) which accumulates votes that are embedded in bar codes the voter cannot verify. This new system also has a variety of security, auditability and legal issues and was recently rejected for use by the state of Texas.
Georgia law provides that ten or more voters may demand a reexamination of a voting system for the Secretary of State to determine whether it is secure and meets the Election Code (§21-2-379.24). Concerned voters are petitioning Georgia Secretary of State Brad Raffensperger and Georgia election officials to reexamine the proposed system. The Constitution Party of Georgia (CP-GA) has joined other organizations in demanding a diligent, responsible and honest re-examination as to whether the Image Cast X voting system meets the legal requirements according to state law.
Read more
---