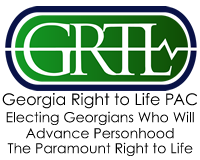 ATLANTA, GA - 06/09/2016 (FOR IMMEDIATE RELEASE) - Georgia Right to Life (GRTL) PAC, the premier political action organization in Georgia fighting for the sanctity of life, made the bold step today of endorsing constitutional conservative Darrell Castle for President. Castle is running on the Constitution Party ticket and is a strong proponent of life, liberty and limited government.
GRTL PAC Director Genevieve Wilson stated, "America is in a political and moral free fall. We need someone who understands our founding principles and truly respects the immeasurable value of human life.  Darrell Castle is that person. Some candidates support unlimited abortion, while others play word games to sound pro-life. It's time to elect someone who will protect all innocent children, the infirm, and the elderly."
Garland Favorito, Constitution Party of Georgia Elections Director stated, "We are thankful that Castle has received the endorsement of such a strong and respected organization as Georgia Right to Life PAC. Our country is in trouble and many voters and organizations are realizing that it will take more than the two-party system to get America back on track. As the only credible pro-life candidate for President running in 2016, Darrell Castle is honored to receive the endorsement of GRTL PAC and his campaign will provide a beachhead to impact state and local elections in the coming years."
Wilson noted there is an extensive effort underway to collect petitions by June 30th to get Castle on the ballot.  She urged pro-life supporters to visit the Constitution Party of Georgia website or call (404) 994-3586 to volunteer.
Born and raised in Kingsport, TN, Castle received a B.S. in Political Science and History from East Tennessee State University and a Juris Doctorate from Memphis State. Castle served in Vietnam as a U.S. Marine Corps officer. He has operated a successful law firm headquartered in Memphis, TN since 1984. With his wife Joan, Castle started a foundation for homeless children in Bucharest, Romania in 1998. Mr. Castle produces "The Castle Report," a podcast commentary on domestic and international policy issues. The Castles currently reside in Germantown, Tennessee.
MEDIA INQUIRIES CONTACT: Garland Favorito at (404) 664-4044
Do you like this post?