Tamar Hallerman
Atlanta Journal-Constitution
Is a political rebirth for former U.S. Rep. Paul Broun underway, this time as a third-party candidate? Maybe, from what we can tell.
Weeks after his Republican primary loss in the Ninth Congressional District, the tea party darling has resurfaced, this time as the vice presidential nominee for the Constitution Party of Georgia.
Word's getting out now that the party made the surprise decision at its state convention in McDonough on June 10, choosing to dither from Utah university administrator Scott Bradley, who was selected as the VP pick at the national party's convention in April.
The group highlighted Broun's Capitol Hill track record on taxes, the debt ceiling and abortion in its announcement.
Read more...
---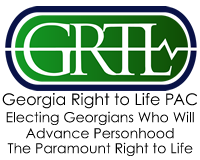 ATLANTA, GA - 06/09/2016 (FOR IMMEDIATE RELEASE) - Georgia Right to Life (GRTL) PAC, the premier political action organization in Georgia fighting for the sanctity of life, made the bold step today of endorsing constitutional conservative Darrell Castle for President. Castle is running on the Constitution Party ticket and is a strong proponent of life, liberty and limited government.
GRTL PAC Director Genevieve Wilson stated, "America is in a political and moral free fall. We need someone who understands our founding principles and truly respects the immeasurable value of human life.  Darrell Castle is that person. Some candidates support unlimited abortion, while others play word games to sound pro-life. It's time to elect someone who will protect all innocent children, the infirm, and the elderly."
Read more
---
ATLANTA, GA - 06/08/2016 (FOR IMMEDIATE RELEASE) - Darrell Castle, the only constitutional conservative running in any national political party for President in 2016, will be speaking in McDonough this Friday evening at the Constitution Party of Georgia's State Convention. The convention will be held from 5:00-9:00 p.m. at the Hampton Inn located at 250 Avalon Court.
With the increasing dissatisfaction among voters regarding the two leading parties' choices, Castle offers a viable alternative for voters concerned about religious liberty, the sanctity of life, protecting and adhering to the Constitution and true limited government. The meeting is open to the general public and is a great opportunity to learn more about a serious alternative for the November election. More information about the convention and registration can be found at gaconstitutionparty.org.
Read more
---